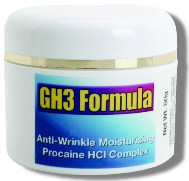 Daily use will visibly counteract skin damage caused by aging, surgery, acne, burns, sun exposure, and other environmental factors. The finely balanced Procaine Hcl complex in this cream works as a powerful antioxidant.

Antioxidants protect skin by neutralizing free radicals, that would otherwise destroy skin and its components. These free radicals are stimulated by ultraviolet light and also occur naturally in the oxygen atmosphere. Procaine Hcl as an antioxidant it immediately neutralizes free radicals and promotes the rapid replication of healthy new skin cells more safely and efficiently than any other treatment

You won't find this product, or any other so effective, anywhere else! Safe & completely secure, why would you consider anything else?

Directions: can be used liberally, night and day. Apply to face and neck following cleansing and before applying other cosmetic products, avoiding the eyes area. Gently smooth in the cream until it disappears. Never tested on animals.

Ingredients: Isopropyl myrsitate, glyceryl stereate, glycerine cetearyl, steareth2dimethicone, vitamin B5, ceteth2oenothera, evening primrose oil, Vitamin E, vitamin A, procaine Hcl, aloe vera barbendis, imidazolidinyl, urea, blueberries extract, comfrey extract, carbomer, triethanol amine, geranium extract, fragrance.


Gerovital GH3 moisturizing wrinkle and anti-aging cream

---

Anti-wrinkle and moisturising cream with
finely balanced Procaine Hydrochloride (50g)

After considerable analysis we have successfully combined the moisturising and anti wrinkle cream in one powerful prescription, excluding the need to purchase two different products, thus saving you money.

Our Gerovital GH3 anti wrinkle and moisturising formula cream with Procaine HCl, diminishes the appearance of thin lines and skin wrinkles. The end resultt become noticeable fast when the free radicals in the epidermis are erased for the active ingredient, procaine hydrochloride with others, help re-construct glowing imperfection free skin, in a natural process..

After almost one year in development, this special product, is finally available, and without a prescription, making it your best choice for wrinkle and skin marks reduction. The formula is made exclusively for our company. We are the first company to offer this advanced, pharmaceutical grade Procaine Hcl treatment for wrinkles and fine lines, and without a prescription.

GH3 Gerovital

anti wrinkle/moisturising cream, nourishes and moisturizes the skin in depth.

Procaine HCl regenerates and stimulates cellular acivity,

restores the skins elasticity, diminishing signs of aging. Revives and radiates the complexion. Visibily slows the aging process. Stimulates your skin to rejuvenate itself, self repair and renewal to protect skin from free-radical damage.

One Jar of GH3 Formula Anti wrinkle/moisturising cream (50g) with Procaine Hcl.



$27.80


Buy 2 Jars get 1 extra free! (Total 3 Jars)



$55.60

---

Discount Packages

Regular

Save

You pay only

One Jar of GH3 Formula anti-wrinkle moisturising cream
Plus 3 bottles of GH3 - 180 tablets

$87.80

$6.00

$81.80

Two Jars of GH3 Formula anti-wrinkle moisturising cream
Plus 6 bottles of GH3 - 360 tablets

$153.60

$10.00

$143.60

---

To order tablets only click

here


Unsolicited Customer Testimonials:

I am on my 4th month with the [Realgerovital] pills, and am totally satisfied. I could not tell you exactly why I prefer this tablet to the other procaine product, but there is a difference, and I feel that I have found the source I will use from now on. The introduction of the moisturizing cream was a terrific bonus.

I am not at all impatient about waiting for results when using a new product. Six months is not a long time to wait when seeking an enhancement. GH3 has assisted my overall wellbeing more than anything I have ever ingested, and believe me, I have sampled a lot of products.... Rewards to the Faithful, I say.

The one aspect of GH3 moisturizer is that it fits the skin! I love this more than anything. The price is compatible, workable and within range of affordability. When I received my first jar, I looked at advertisements from local cosmetics departments. For the same amount of cream, others, touting all but a major face lift, ran from about $58 to $92 US dollars. Since I've been there, tried that, I was well aware of the difference. After using the GH3 cream for only a few weeks I knew that this product could stand up and surpass any and all of the others. (J.S. - Oregon)